Best Music Player Apps For Android In Hindi , Friends, who does not like to listen to music in mobile nowadays! Most of the smartphone users spend most of their time listening to songs in the phone, but if you are not using only a good music player in your smartphone, then your entire music experience can be spoiled, that's why today we are giving you 10 such Best Music Player Android Apps We are going to tell about which your music experience can be very special.
In today's time for Android smartphones, you also get to see online music streaming services like Google Play Music, Spotify, but if you have kept your own music collection in your phone then there is no need for these online applications. A good music player is needed.
You will find thousands of Music Player apps on the Playstore but most of them are useless apps, which do not make any sense to install on your smartphone, but there are some such Best Free Music Player Apps available on the Playstore which are really the best music player applications.
10 Best Music Player Android Apps (Hindi)
Friends, the question must be coming in your mind that a default music player app is present in all Android smartphones, then why install another music player app? So friends let me tell you that my android The default music player app in the smartphone is a very simple music player app in which all the features that we need are not available.
Many times we need some advanced features which we do not get in the default music player, so we have to install an external music player in our smartphone, today we are going to talk about 10 Best Music Player Android Apps with some such good features. Which you can download for free.
If you are looking for a best music player app then you can use AIMP it is a free application in which you will get all the features which are in your default music player but in AIMP you also get some advanced features like UI Customization, with the help of which you can change the user interface of your music player such as the theme of the music player and other UI elements in it.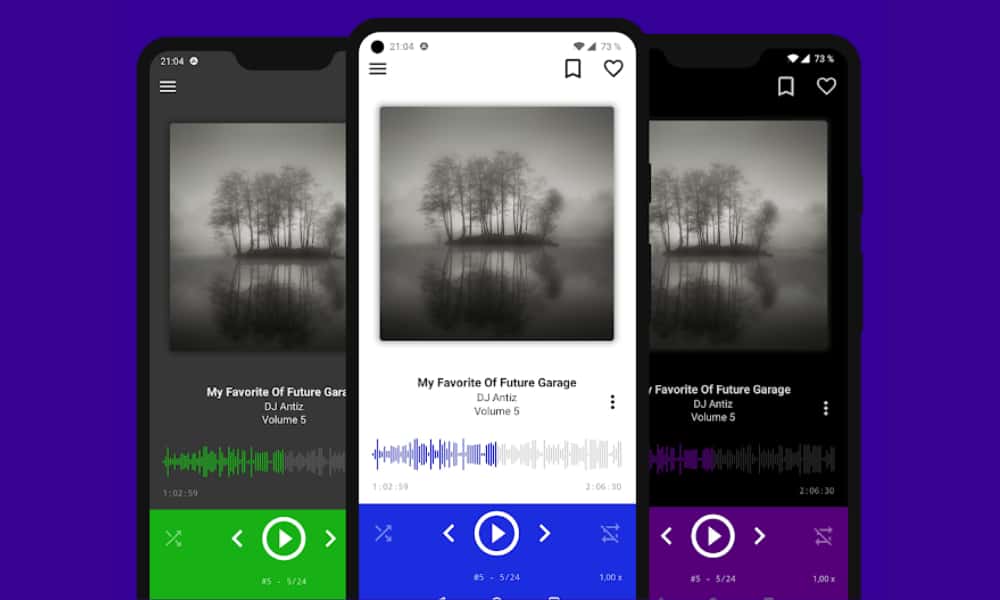 Sometimes your default music player does not support some music files and extensions but this app supports many extensions like FLAC, MP3, MP4, AIMP also gives you a great and advanced navigation menu.
In AIMP, you also get a sound effect manager from which you can change the effect of music and also here you have been given the feature of Full Playlists Control, in this app you can control the playlists as you want.
Musicolet is also a Best Free Music Player App, in which you get a lot of features in a small size, the size of this app is only 4.9MB but still the features are amazing and the special thing about this app is that Musicolet is an Indian application. is .
Due to the simple design of Musicolet, good user experience is available and the most important thing about this app is that you get a lot of features even in small size which you get in big size apps. You do not even have to face advertisements in Musicolet because it is an Ads Free application, so if you are troubled by the advertisements coming while listening to music, then you must use Musicolet.
This app does not take any internet permissions from you because it is completely an offline music player, with this you get many good features like audio equalizer, earphone control, audio effects which hardly you will find in any free music player app. I will see you.
doubleTwist is not only a powerful music player but also a podcast manager, it is also the best Music Player Android App with a fast and simple user interface.
The DoubleTwist application also offers basic music player features such as music filters, audio controls with Chromecast and Android Auto support, and AirSync, AirPlay and DLNA support.
Some special features of DoubleTwist –
10-band Equalizer & SuperSound
Gapless playback
Album art search
Removal of ads in the podcast & radio screens.
Premium themes
Sleep timer
Although this is a free application, you get to see many of its features in its paid version, so if you want to use more of its features, then you can also buy the premium version of DoubleTwist.
You can also call this Music Player a music manager because you can manage different music collections in MediaMonkey, here you can also manage Music, Classical Music, Audio-Books, Podcasts and Videos.
Or the music player also has the ability to better sort the numbers and in MediaMonkey you get basic features like equalizer like other music players.
A unique feature of this app is that in MediaMonkey, you can sync your computer's music library with your smartphone via WIFI, this may be a bit difficult feature for a non-technical person, but this feature MediaMonkey is different and unique from other Music Players. makes .
This is a very user – friendly and attractive Music Player whose size is only 5 MB , it is also very easy to use due to its attractive and user – friendly UI .
You also get Chromecast and Android Auto support in Oto Music, along with this application you get to see 5 widgets like gap-less playback, light and dark themes, tag editing, normal / sync lyrics support.
This is a free application, although its premium version is also available, but its free features are also great and this app is only 5 MB, which also saves the space of your smartphone.
Phonograph is a free open source and light weight Music Player application that looks very simple and classic, this application is also very easy to use.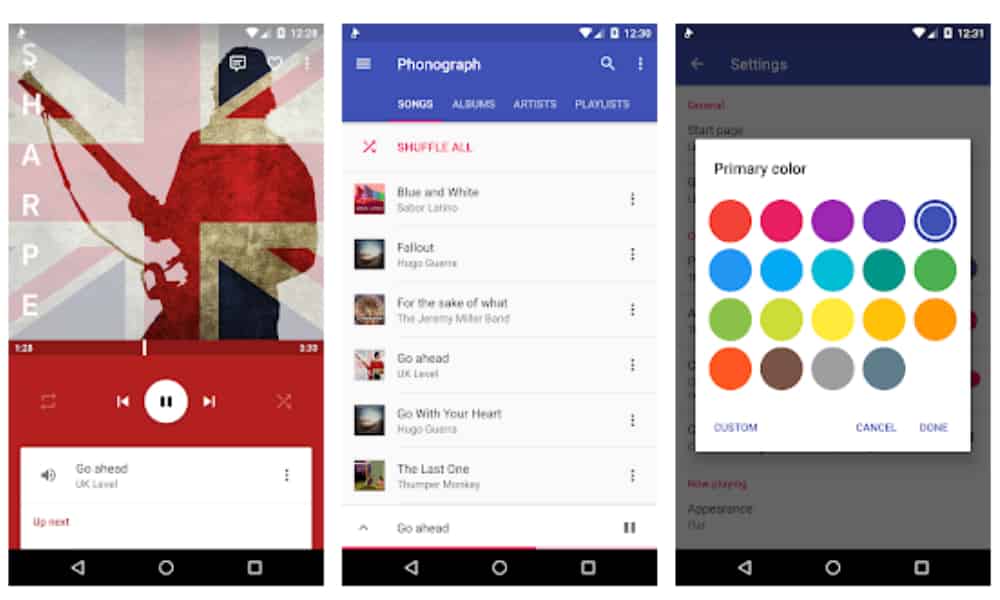 In this app, if you want, you can also change the theme, but in this you will not get to see more attractive themes because it is a non profit open source app.
Phonograph app can be a good option for those people who do not want any kind of interruption while listening to songs, this app can easily be used by any person and also does not contain ads.
Rocket is also the Best Music Player Android App with a great and good features, in this music player also some advanced features are seen along with basic features.
In this app you also get advanced features like 10-band EQ, embedded lyrics support, tag editing, Chromecast support, and Android Auto support. Rocket Music Player's Android Auto support works well with Google Assistant as compared to other music player apps.
You get 30+ themes in Rocket Music Player and in this you also support many formats like ogg, mp3, 3gp, mp4, m4a, alac, tta, ape, mpc, wav, flac, wv and wma.
Pulsar is considered one of the best Best Android Music Player App in today's time, which you can download for free from Playstore.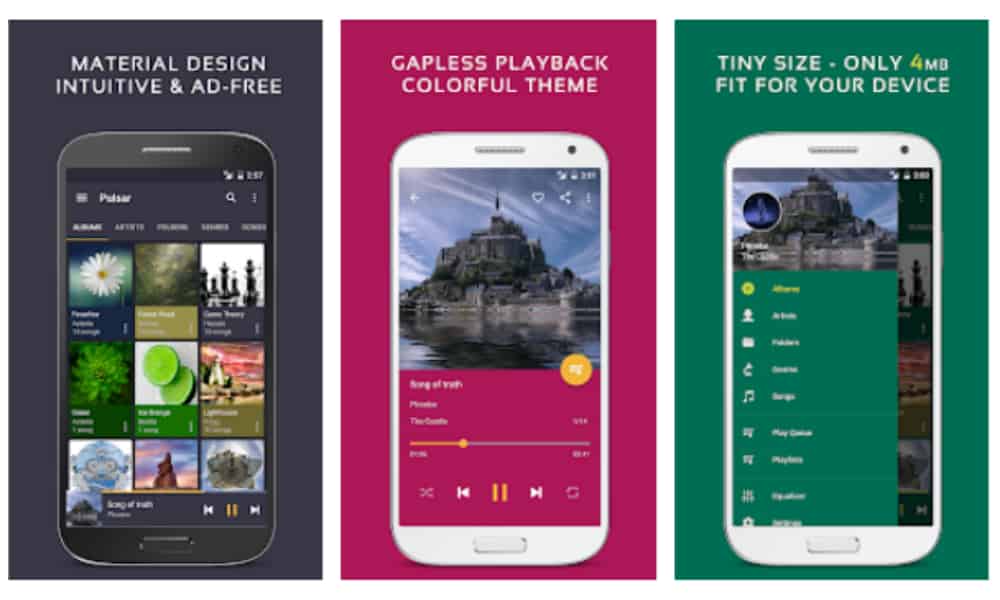 The material design of this application is very cool and attractive, due to which you find it a very user friendly app while using Pulsar Music Player. In this application also you get advanced features like tag editing, gapless playback, smart playlist, sleep timer.
Chromecast support and excellent Android Auto support features are also available in Pulsar Music Player and it is an offline music player which is absolutely Ads Free meaning you will not see ads in this app while using this app.
Stellio is an advanced music player with powerful sound, themes support and various sound features that you can download for free from playstore.
The feature of lyrics in this application is special because you can download online lyrics of songs on Stellio App and you can also use offline. Stellio also supports many popular music formats like FLAC, MP3, CUE, APE, M4A etc.
In this app also you will get to see basic features which are usually seen in any other music players but it also has many advanced features like Tag Edit, Android Wear support, high resolution music along with basic features.
Poweramp is also one of the famous Best Music Player Android Apps used by many Android users, it is a free application that you can download from Google Playstore.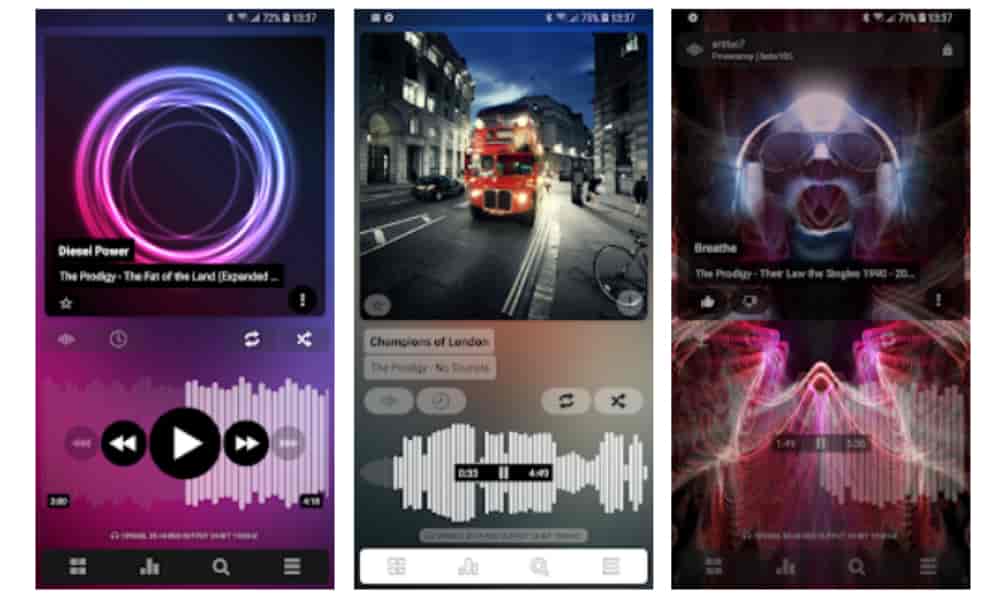 The interface of this app looks very attractive in appearance, in this you have also been given the feature to change themes, Poweramp is a different and famous application in the world of music players due to its attractive interface and great themes.
In this also you get many advanced features like Android Auto support, gapless playback, crossfade along with basic music player features, you can also download Lyarics in Poweramp if needed.
Conclusion
friends we 10 Best Music Player Android Apps In Hindi In this article, know about 10 such Best Music Player Android Apps which are a little special from thousands of music player apps available on Playstore and you can download and use all these applications for free on Playstore.
Well all these Music Player Apps are good, each application has its own unique features, but if you ask me which Music Player App should be used, then I would recommend you to use Musicolet App because this app is quite light weight and less Gives more features in size and most importantly it is an Indian app.
hope you guys Best Music Player Android Apps You must have liked this information, if you liked this article, then definitely share it with your friends and if you have any question related to this article or these Best Music Player Android Apps, then definitely ask us by commenting.
Read other –