Josh App has been trending for the last few days, ever since TikTok has been banned in India, new TikTok alternative apps are being launched continuously in India and till now including Josh. MX Takatak , Roposo Like the famous Indian indigenous Short Videos Apps have been launched which are very much liked by the people.
If you do not know about Josh App What is Josh App And what are its features, then you must read this article till the end because today we are going to do a complete review of Josh App in Hindi.
What is Josh App?
Josh App is an Indian short video app where you can watch the latest videos of your favorite creators and also record and upload your own videos, here you can participate in fun challenges and even get a star ban. Josh is a Made In India App on which you can watch trending and viral short videos in your own language and make videos in your own language.
On this app you can watch funny trending and viral videos like dance , music , comedy , jokes , pranks , challenges , pet , cooking , bollywood , fashion , whatsapp status , diy , funny , glamour , snake videos , cute , and many more You can watch cool videos on Josh.
On Josh you can create fun music, dialogue dubbing and lip-sync videos and win exciting prizes by taking Daily Challenges. You can make funny short videos using Josh's Beauty Camera because in Josh App you have been given amazing camera features like Real-time Filters, Special Effects, Face Stickers, Makeup Camera, Emojis.
You also get to see videos of big creators and TikTok Stars on this app because many creators have got excited after the ban of TikTok.
Features Of Josh App
Josh App app is an Indian short video application, in which you get to see many features of short video apps like TikTok, so let's have a look on the features of Josh App.
Videos of different genres
On Josh App you can watch trending, funny and viral videos as well as different types of videos on Josh you can prank, jokes, dance, music, comedy, challenges, pet, bollywood, cooking, fashion, whatsapp status, glamour, snake Videos, Cute, DIY and Takatak Videos.
Daily Challenges
On Josh you can accept various daily challenges to win money prizes and thousands of followers by making fun music videos like dialogue dubbing and lip-syncs. Here different challenges are given by the creators, on which you can post great videos with hashtags #SwagHai and #OhNo, these hashtags challenges are very popular.
Shoot awesome videos with ease
Josh comes with amazing features like face stickers, makeup camera, emojis along with real-time filters and special effects, due to which you can easily shoot amazing videos on this app and its camera is also very easy to use. .
Duet Videos
If you are fond of making Duet Videos then Josh is the right platform for you because here you can make Duet Videos with your friends or with your favorite famous person or influencer.
good music playlist
You can add great music and dialogues to your videos and create fun videos with Josh's unlimited music and sound playlist.
content in your language
Josh app is currently available in 12 languages ​​of India along with Hindi and English, so you can watch videos here in different Indian languages ​​like Tamil, Telugu, Kannada, Malayalam, Marathi, Gujarati, Bengali, Oriya, Punjabi and Bhojpuri.
Celebrities and Influencers
This application is used by many famous short video creators, influencers and famous people, so you can follow your favorite creator here and watch his videos.
easy sharing
You can easily share videos with Josh app on social platforms like WhatsApp, Facebook, you can easily put videos of this app on your WhatsApp status too.
How to Download Josh App?
Downloading Josh App is quite easy because this application is available on Playstore and iOS Store from where you can download it for free, you can also download Josh App easily by following the steps given below.
1. First of all open playstore/app store on your phone.
2 . After going to playstore/app store, in the search box "Josh AppSearch.
3. After searching Josh App, the official application of Josh App will come in front of you, which you can install on your device by clicking on the install button.
You can also download Josh App directly by using the download buttons below!
How to Create Josh App Account?
Creating an account on Josh is an easy process, to create an account on Josh, you must first download it, after downloading and installing this app, you can follow the steps below.
1. First of all open Josh App on your device.
2 . After opening Josh App, first of all you get the option to select language, here you can select any one of your favorite language.
3. After choosing the language, your app Guest Mode will open and videos will start showing but you cannot comment on any video here or you cannot make videos yourself because you are currently on Guest Mode. Josh App To use it properly, you have to create an account here.
To create an account on Josh, first you have to go to the profile option on the bottom right side, after going to the profile option, a new screen will open in front of you where you will be asked for your mobile number, you have to enter your mobile number here. Click on OTP button.
4. After clicking on the Send OTP button, you will be asked to enter the OTP on the next screen, an OTP of 6 digits will come on the number you entered, you have to verify the mobile number by entering it here.
5. After OTP Verification, your account will be opened but you will be given a default username and default profile picture which you can change.
6. After clicking on the setting icon, you will see 2 options on the next screen, Edit Profile and Share, here you have to click on the option with Edit Profile.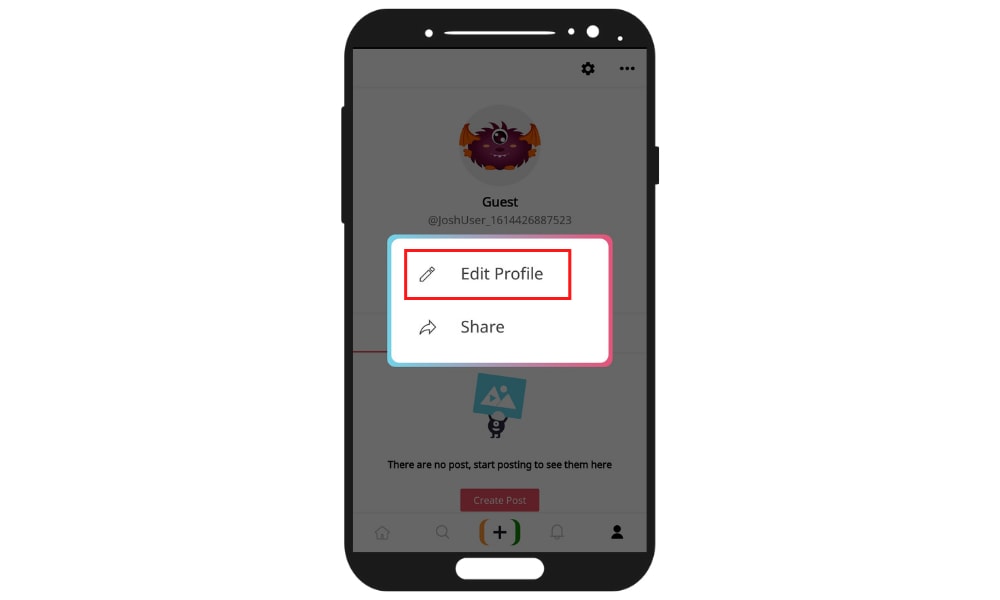 7. After clicking on Edit Profile, you will get options for editing the profile, from here you can change your name, username, bio and profile picture and after filling all the details properly, you have to click on the save option above.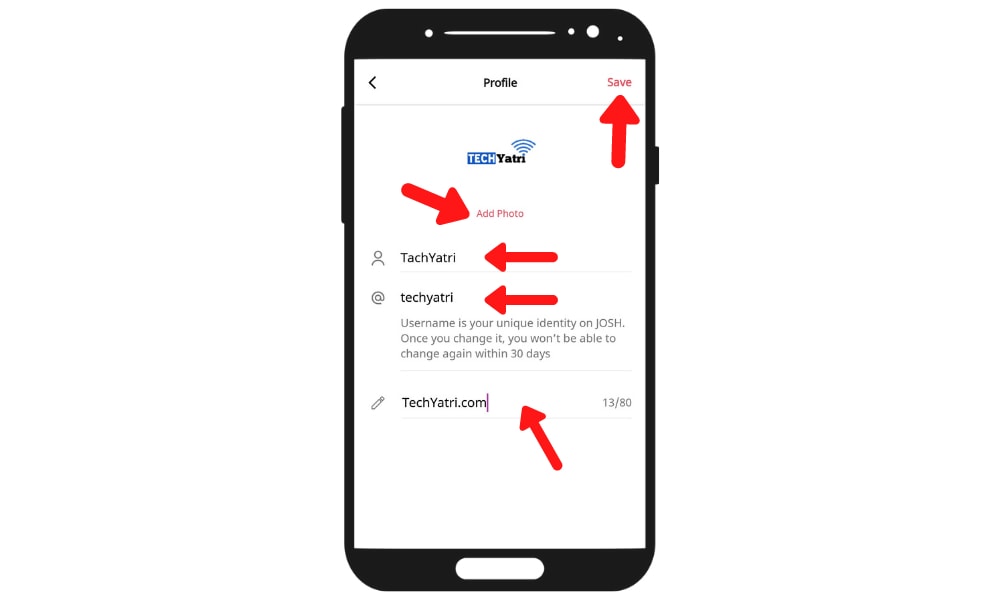 Your Josh account will be ready as soon as you click on save!
I hope you guys What is Josh App You must have liked this article, if you liked this information about Josh App, then definitely share it with your friends and if you have any question related to this article, then definitely ask us by commenting.